Today's word of the day at merriam-webster.com is Vanilla. It has two main meanings, ordinary, which today was, and of course it's also a noun for a flavoring.

The smell of vanilla evokes feelings of comfort for me. My favourite perfume is vanilla – I love smelling like a warm cookie!

I'll have to make something vanilla this weekend – maybe my Mom's Golden Glow cake. Or maybe I'll try something new – it's a good excuse to drag out some recipe books.
The weather today was a real mixed bag – sometimes overcast and other times bright sun. Its cold though, only -3C. I think it's our first full day below freezing
The idle pleasure today is not idle at all (although there were plenty of idle ones as well). It's the pleasure you get from admiring a job completed. These are perhaps the most satisfying pleasures of all. Today I finished off the kitchen curtains – they look great and really finish off the look of the kitchen. Not a meaningful accomplishment, but pleasurable all the same.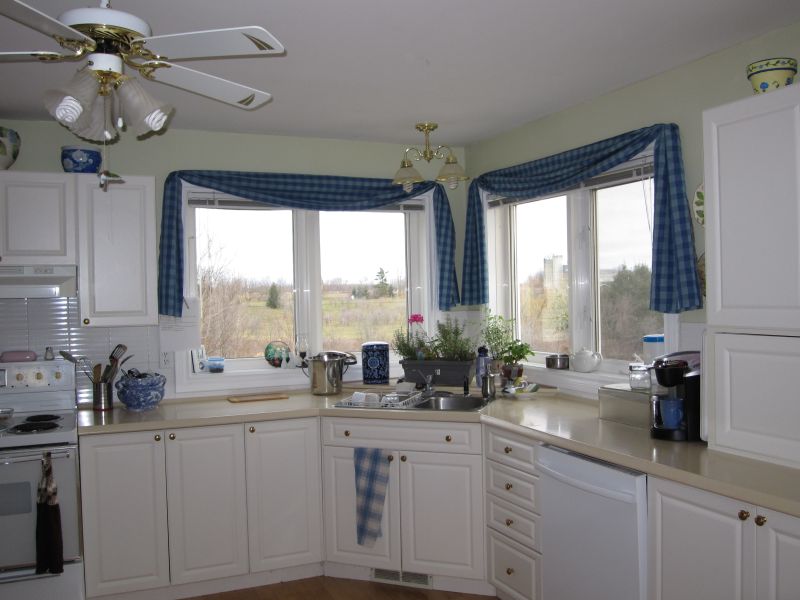 I started work on the throw cushions today. Got one done and decided that's enough for now. I did a terrible job and know its because I'm a bit manic – I mean really – who doesn't take the time to pin! I've still got enough good sense to know to wait to do the rest. The one I screwed up had my favourite fabric, one that I can never get again (it was an Ebay find a few years ago). If I wait till January I'll be more likely combine fabric in interesting ways and also to add finishing details like piping.
The recipe for today is one I made up: steamed green beans sautéed with a bit of bacon and garlic and tossed with some pasta and goat cheese. Yummy, easy and a good serving of vegetables! We buy the green beans from Costco so they are already washed and just get cooked in the bag. It couldn't be easier.
Took the dogs out this afternoon while the sun was still shining – it was cold but the sun was nice. As usual Bella and Spike harassed Kabira. She's so patient and just stands there while Bella barks at her and Spike chews her ear.
Finally she made an escape and lead the pack through the hayfield gate… at top speed… its scary to watch as they just miss the post…
...

and run all the way up to the front door, where they continue their harassment!